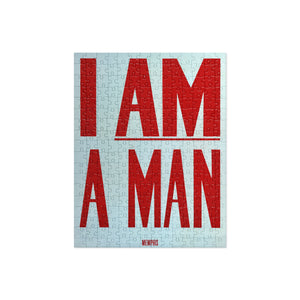 Placard from sanitation worker's strike in Memphis, Tennessee, 1968 (puzzle)
The phrase "I am a man" was used by Memphis sanitation workers and their supporters during their famous strike led by Martin Luther King, Jr. in April 1968. The phrase echoes a nineteenth-century abolitionist poster, which asked, "Am I not a Man and a Brother?" Most of the sanitation workers/strikers involved were African Americans who demanded suitable compensation and union recognition. Printed in large red letters by Emerson Graphics. GLC05954

• Pressed paper chipboard with adhesive, 0.06″ (1.53 mm) thick
• 252 pcs puzzle size: 10.62″ × 13.62″ (27 × 34.6 cm)
• 520 pcs puzzle size: 15.74″ × 19.74″ (40 × 50.1 cm)
• Digitally printed
• Semi-gloss finish
• Vibrant colors
• Can be used as wall decor
• Blank product components sourced from the US

Warning: Choking hazard—small parts. Not for children under 3 years.

Important: This product is available in US only. If your shipping address is outside this region, please choose a different product.